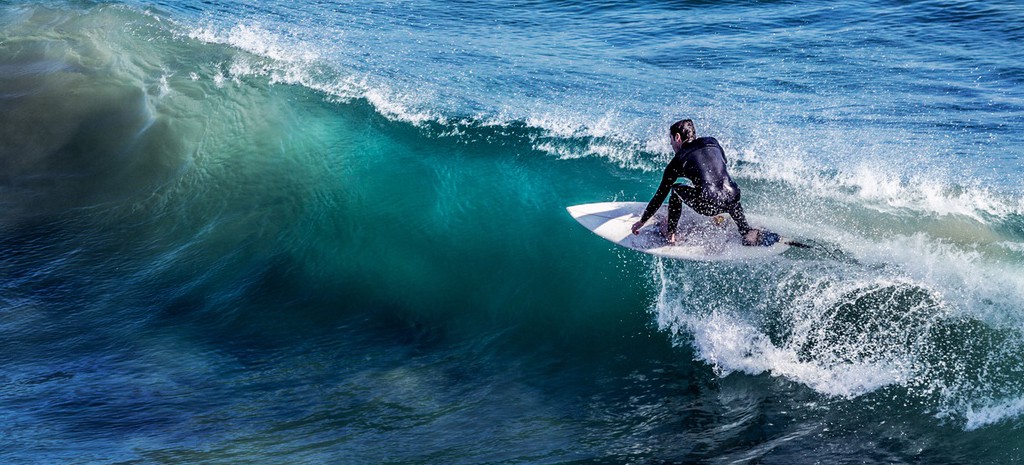 If surfing is mentioned in these latitudes, it is mostly waves, less windsurfing. Waving is the best known type of surfing. This sport comes from Hawaii, and was only discovered in the 1950s by the American. Since then conquered this sport the beaches of the world.
Surfing includes a surfboard, possibly a neoprene suit for cooler times, some wax (increases the stability on the board) and a leash (an approximately 2 meter string with which the surfboard is secured to the leg). The ride on the waves is just great fun! The choice of surf spots (also for beginners !!) is great, the most famous are Arrifana, Amado, Cordoama and of course Sagres! Waves are always somewhere. Surfing schools and equipment are mainly on the west coast at every corner.
For beginners
Everyone can learn how to swim and feel physically capable of it. Beginners should definitely use the help of a teacher. The handling of the waves has to be learned – otherwise it is no fun! In the surfing school there is also a surfing equipment, so that for the beginning nothing has to be done. A teacher also helps with the selection of the right board, he knows the perfect beach, explains the technique, the rules and is careful that nothing happens to his or her pupils.
Algarve Surfspot
The main towns for surfers and surf schools are Sagres and Lagos. Many of the coveted surfspots are located on the west coast of the Algarve at Odeceixe, Aljezur, Carrapateira and around Sagres. On the Felsalgarve are the spots at Salema and around Lagos. Especially in Sagres, there are many surf shops and bars where the "scene" meets. The surfing schools always know best where to find the best waves.
To learn more about surfing in the Algarve, check out Julian's blog: The Surfnomade!
Popular surf beaches
South coast: ideal for beginners because the waves are normally smaller than on the west coast. Sometimes the sea is also too smooth. The further east, the less waves are found.
Praia da Ingrina
Praia do Zavial
Praia da Salema
Praia da Luz
Meia Praia
Sagres: THE surfing paradise of the Algarve! Some of the best Algarve surf spots are located around the Cape "Cabo de São Vicente". Surfshop at Surfshop is located in town.
Lagos: there are surf schools and surfing even in the pedestrian zone of the historic old town. There are very different surf spots around Lagos, as there is something for everyone.
West coast: Praia do Amado, da Arrifana, da Amoreira, Monte Clérigo