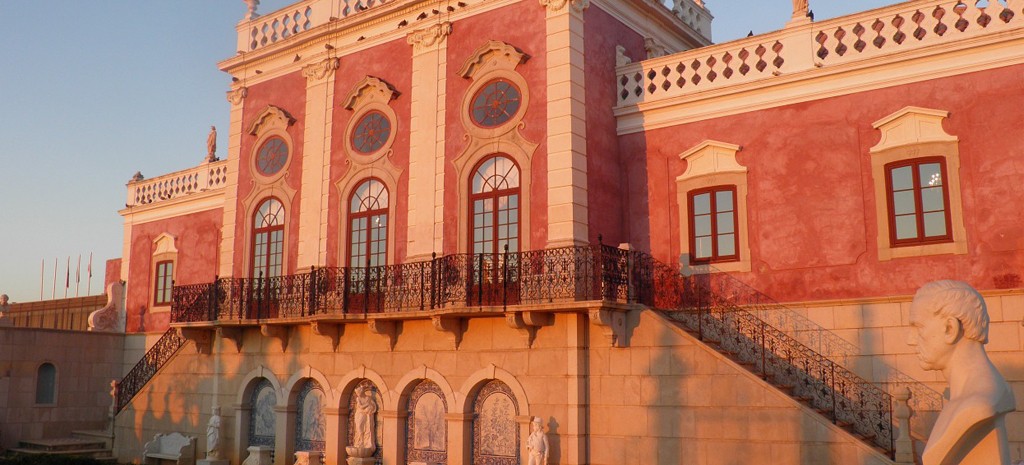 The municipality of Estoi is located on the edge of the Serra do Monte Figo, about 10 km north of Faro. Today, it belongs to the district of the city of Faro and was already settled in prehistoric times. The Romans have also strongly influenced this area, as can be seen in the ruins of Milreu.
Estoi is a typical Algarve village of rural Barrocal, the line between the coastal region (Litoral) and the mountain range (Serra). Since here two areas clash, one can admire a diverse flora and fauna. The rural character makes for pleasant walks in a varied environment, because single and unique estates – magnificent Quintas -, simple casas, modern villas or ruined ruins.
The Barrocal is characterized by agricultural agriculture and useful trees that are often found between the decayed stone walls: wild olive trees, juniper, grapes, cherries, melons, almonds, olives and citrus fruits are cultivated here. Especially in the winter one can enjoy the orange-colored fruits of the many flowering orange trees. In spring the almond trees bloom and cover the country with a pink carpet. Due to the versatile planting, the Barrocal is evergreen and offers all year round what to marvel at.
The center of Estoi is the square in front of Igreja de São Martinho de Estoi, also called Igreja Matriz. The Palácio do Conde de Carvalhal, which gradually became extinct after the Count's death in 1875, is worth visiting. Today belongs to the Palácio of the city of Faro and is being renovated. The Roman ruins of Milreu, mentioned above, are also found at the beginning of the town. Here you can explore bathhouses, remains of mosaics and ruins of a Christian basilica from the 4th century, built over a Roman temple.