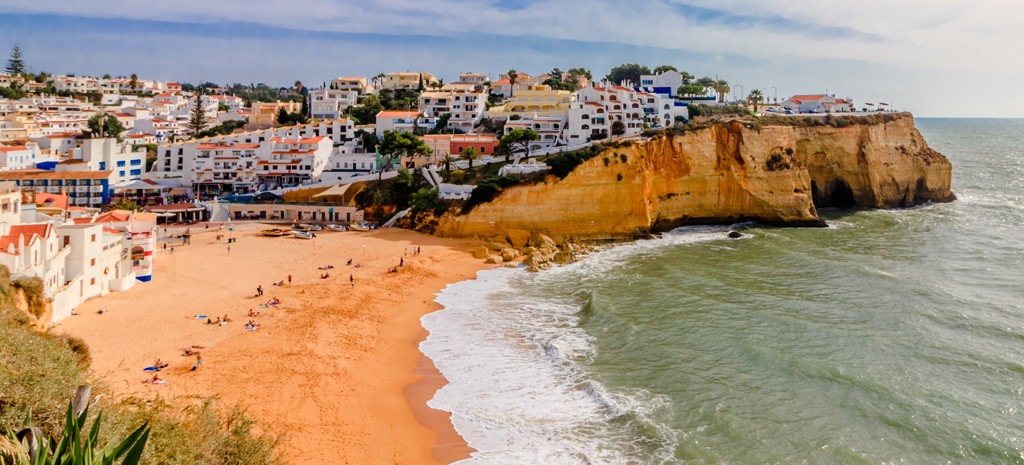 Carvoeiro is definitely worth a visit. The location in the narrow bay has prevented too many hotels being built so that the former small fishing village is today an idyllic little town of the Algarve, which has already bewitched many sun-drenched. Already in the early 1900s, rich Portuguese from the north were able to erect their holiday houses, which they inhabited during the summer months. From this time comes also the Spielcasino, whose ruin is still today.
Carvoeiro is a popular and lively resort. This is not least because, thanks to a rational planning of the district administration in Lagoa, the place is "free of high costs". The holiday resorts, which have settled around the actual town center, have developed into a landscape adapted to the landscape. This is why Carvoeiro can easily be described as a villa.
In the immediate vicinity you will find beautiful sections of the rocky gorge, such as the Algar Seco. From the road on the cliff, a staircase leads down to these magnificent rock formations and grottos, where you can climb around as you wish. Wind and weather have shaped this landscape from the pillars, plateaus and caves over the centuries. The tides do, by the way, make this place appear spooky; A small "mountain lake" rises and falls with ebb and flow, the sea gurgles from angled caves and crevices; The color of the limestone changes with the sunlight and the sun.
The access road to Carvoeiro ends at the main square and center. On the left and right the square is framed by the rising rocky coast. In the summer, music is played on a small stage, and you can meet in the numerous cafes and restaurants. From this place one reaches the only church of the place. From the forecourt of the church you can enjoy a wonderful view of the beach bay and the village and even to Portimão or Lagos. Particularly impressive and even spectacular is the evening sunset.
From here you can take a trip to Silves (15 minutes by car), the former capital of the Algarve, with the historical Castel and an interesting market hall.