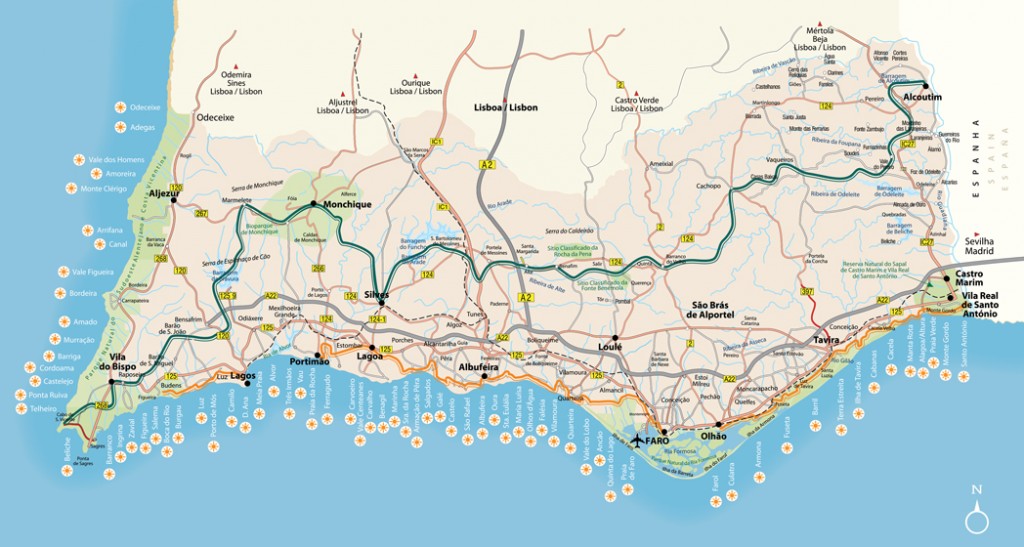 The Algarve, Portugal's southernmost province, is a holiday land for all seasons. Not only the summer months are attractive. Here the sun never goes on vacation and ensures mildly warm temperatures in spring and autumn, which in addition to active travelers as golfers, mountain bikers, horse riders and hikers also attracts those who appreciate peace and tranquility. Explore the natural and cultural beauties and do not miss out on a delicious, local specialties from kitchen and cellar.
Some attractions for a first overview
---
CITIES
---
BEACHES
All beaches with access and detailed description can be found here in the beach guide of the Tourismo Algarve. Just be amazed by the variety and breathtaking beauty of the beaches on the south and west coast of the Algarve. Here you will find a beach guide.
---
ATTRACTIONS
---
HIKING
For friends who want to discover the Portuguese flair on foot, there is a lot to see. Many trails through small sleepy villages or in even wilder nature, there are also in close proximity to Bellevue No. 1. You can find detailed proposals here in the hiking guide of Algarve and in this Nature-Guide of the Algarve.
---
Sports
An overview of the Algarve here via PDF .